Kui sulle meeldib tegeleda mitmekülgsete projektidega ja luua uusi koostöösuhteid teiste ettevõtetega, siis järgnev jutt on täpselt sinule! Otsime Stebby tiimi B2B ärikliendihaldurit, kes soovib samm-sammult koos Stebby keskkonnaga areneda. Loe lähemalt >
Lisainformatsioon ja kandideerimine kestutis@stebby.eu >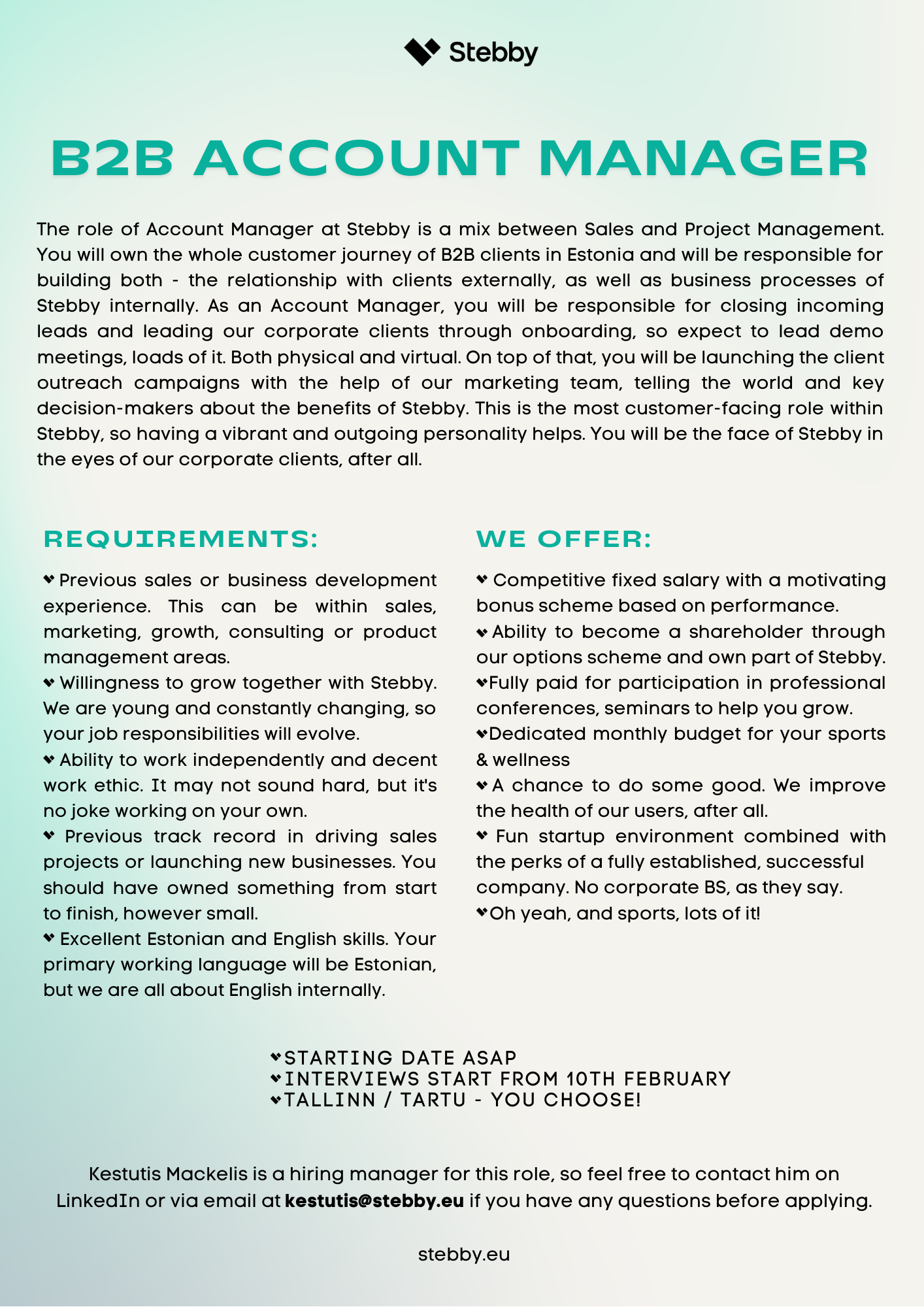 Job description, tasks
The role of Account Manager at Stebby is a mix between Sales and Project Management. You will own the whole customer journey of B2B clients in Estonia. You will be responsible for building both – the relationship with clients externally and business processes of Stebby internally.
As an Account Manager, you will be responsible for closing incoming leads and leading our corporate clients through onboarding, so expect to lead demo meetings, loads of it. Both physical and virtual. On top of that, you will be launching the client outreach campaigns with our marketing team's help, telling the world and key decision-makers about the benefits of Stebby. It is the most customer-facing role within Stebby, so having a vibrant and outgoing personality helps. You will be the face of Stebby in the eyes of our corporate clients, after all.
This position is perfect for someone who has some previous business development experience in sales, marketing or product management role and would like to move into a more B2B face-to-face relationship-building based position in a fast-growing software company.
Tasks may include, but are not limited to:
– Growing the share of our Corporate client revenue will also be your main KPI.
– Up-sell and cross-sell some of our newest wellness offerings to our existing client base.
Finding and qualifying cold and hot leads are usually CEOs and HR Managers of modern companies, so you should feel comfortable communicating at this level.
You are employing growth hacking tactics to increase the client discovery process's efficiency. You will get full training and guidance on that. Trust us, it is exciting!
– Representing Stebby in top Baltic conferences, events, and seminars. Yes, we want your name to become synonymous with Stebby.
Requirements
– Previous sales or business development experience. It can be within sales, marketing, growth, consulting, or product management areas.
– Willingness to grow together with Stebby. We are young and constantly changing, so your job responsibilities will evolve.
– Ability to work independently and decent work ethic. It may not sound hard, but it's no joke working on your own.
– Previous track record in driving sales projects or launching new businesses. You should have owned something from start to finish, however small.
– Passion and enthusiasm to get things done. Because as famous classics say – hard work beats talent when talent does not work hard.
– Excellent Estonian and English skills. Your primary working language will be Estonian, but we are all about English internally.
Beneficial experience
– Previous experience in B2B sales, especially within a software product.
– Tech-savvy and familiar with PowerPoint and Excel. No need to be scared, one week in our Tartu office and you will know the Stebby system inside out!
– Passion for sports, health, or wellness. It helps to understand the needs of our clients.
We offer
– Competitive fixed salary with a motivating bonus scheme based on performance.
– Ability to become a shareholder through our options scheme and own part of Stebby.
– Fully paid for participation in professional conferences, seminars to help you grow.
– Dedicated monthly budget for your sports & wellness
– A chance to do some good. We improve the health of our users, after all.
– Fun startup environment combined with the perks of a fully established, successful company. No corporate BS, as they say.
– Oh yeah, and sports, lots of it!
Additional information
– Starting date ASAP.
– Interviews start on 10th February.
– Office location: Tallinn or Tartu – you choose!