It's here! We are extremely pleased to announce that the long-awaited Stebby mobile app is ready and available for everyone to download. But how does our app make your life easier?
With the app's help, you can access all your favourite services with just a few swipes to take care of your health at any time and place you want. The Stebby mobile app is like health in your pocket to keep track of your health expenses, the best discounts and service providers in the area.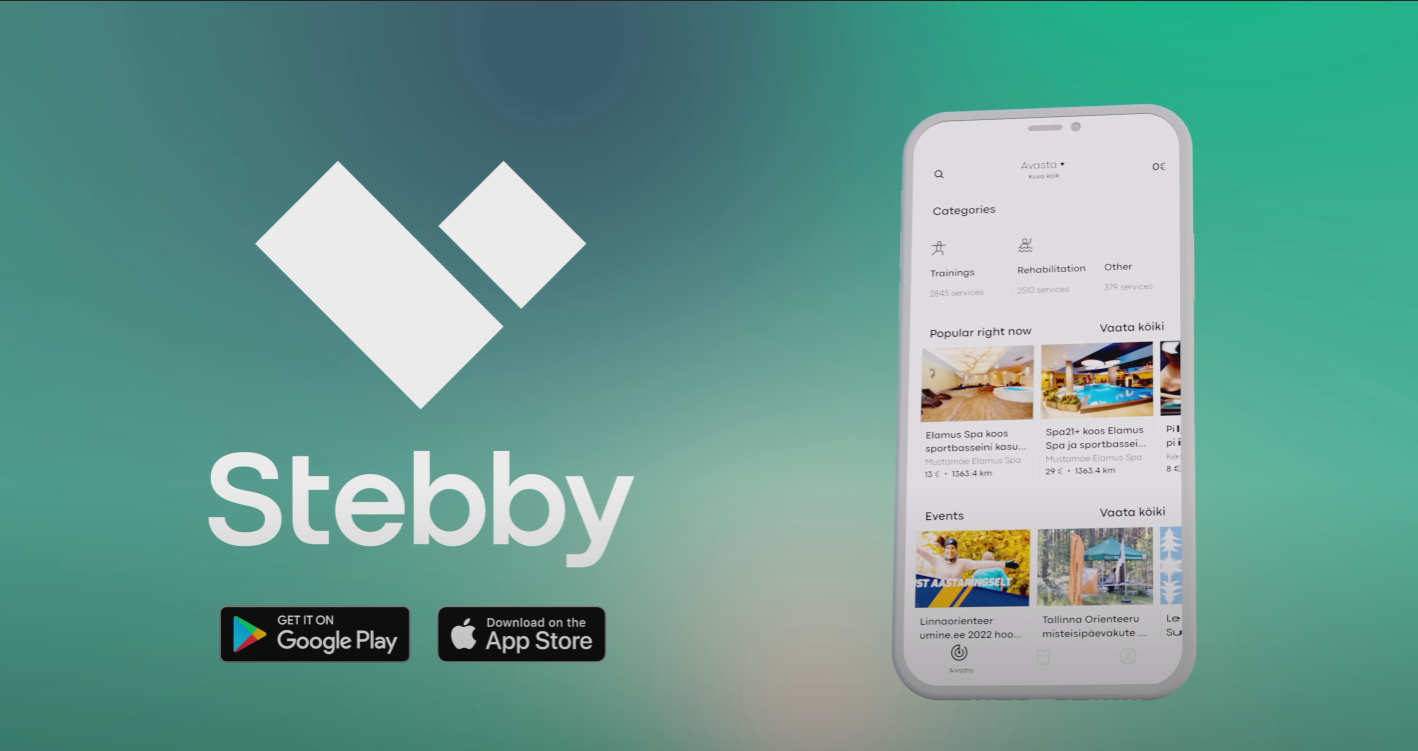 Easy to use
After downloading the app, you can choose between different login options to access thousands of services. Use classic email sign-in, connect to a Facebook or Google account, or choose an Apple ID – it's your choice. Just log in, and the app is ready to use!
If you don't have a user yet, but desire to get familiar with the Stebby app, then just download the app and look around –  you are free-roam on the app to find out which services can be found in our environment. If you liked what you saw, you can simply register to join with 150,000 people who are already taking care of their wellness with Stebby.
Find a suitable service provider in your neighbourhood
Did you get an idea to find a way to relax in the new city or are you looking for a new sports club in your hometown? Look at the service providers near you and buy a ticket conveniently in advance or on the spot. You no longer have to spend time surfing the web, but with simple search and transaction options, you will find the best way to take care of your wellness in just a few minutes.
Buy services conveniently again
Did you enjoy your last visit? Repeat your purchase with just a few taps! The app will immediately show you your latest transactions and will not leave them forgotten. If you need the same relaxing massage or training experience, you can immediately buy the service you like again from the app's front page in a few moments.
Manage transactions and compensation in one place
Get notifications directly on your mobile phone when you receive compensation or make a purchase. You can also use the app to join your employer's compensation plan and link personal bank cards to your account.
Favourite and review service providers
Select your favourite service providers and add them to your home page by clicking the heart icon on the service provider banner. Now can also rate your visit or service through the app! Read about users' reviews and write your own for the others – share your experience, so everyone knows what to expect!
Taking care of your health has never been so easy
Whether you have a connection to Stebby due to an employer or an interest in improving your health, it doesn't matter – you will find your favourite among thousands of services in Estonia, Latvia and Lithuania.
According to Stebby marketing manager Emily Vigel, the completion of the app is an important step in linking together people's health and wellness services so that everyone has a wide range of choices on how to take care of their health. "We have been waiting for the app to be finished, and we are sincerely happy that we can finally share it with our users. In today's world, small things affect big decisions, so we wanted to create the most convenient and reliable wellness app possible, to give people an extra boost to try something new and unique, " adds Vigel.
If you have any ideas to make the app even more convenient for everyone, let us know at info@stebby.eu. We are very grateful for your feedback to provide the best user experience for all of our users.